Fall Party Ideas for Kids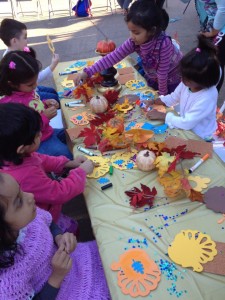 Back to school, Halloween, and autumn are great reasons to have a party for your kids. The weather's cooler, and it's fun to be outside in your back yard again without worrying about dehydrating in the heat of the sun. Bounce houses from Katy party rentals make a great addition to your celebration. Here are some birthday party ideas in Katy TX that will break the ice and get kids playing.
Outdoor Games
Harvest Relay Dash – Instead of filling cups with a spoonful of water at a time, use sunflower seeds, candy corn, or bird seed. Form teams of three or four people and race about 50 feet with a spoon filled with the chosen material. Fill a cup and win the relay.
Pumpkin Seed Toss – Line up a set of five or six small bowls or carved out pumpkins. Have kids stand three to four feet back and toss pumpkin seeds into the bowl. Put points on each bowl and see who can get the most points.
Pass the Pinecone – Line the kids up in two lines. The first person in line is given a pine cone and must pass it to the next person without using their hands. You could also use an ear of dried corn or small gourd. Once it gets to the end of the line, it has to come back to the front.
Bob for Apples – Fill a large tub with water and float apples in it. Have the guests try to capture an apple out of the tub without using their hands.
Indoor Games
Play bingo with candy corn as the markers.
Pin the nose on the pumpkin or the wart on the witch instead of pin the tail on the donkey.
Leaf Blow Game – Using a straw, have the kids blow a leaf across the table. Work in pairs with the winner moving on to the finals.
Decorate a pumpkin or small gourd with glitter, buttons, and other craft supplies instead of carving one. It may not be any less messy, but won't require knives or other sharp objects and you won't have pumpkin guts all over the place.
Have a taffy pull and let the kids work the candy until it glistens. It's always fun to play with your food.
Invite the Neighbors and Friends for an Evening of Fun
Call Jump & Joy Party Rentals for fall party rentals in Katy TX, and a large selection of bounce houses and slides which help keep the kids entertained during your birthday parties in Katy TX. Whatever you're celebrating, whether it's a birthday or just the fall weather, you won't go wrong with a moonwalk at your celebration.